Face Painting Products

We use only FDA approved face / body paint for the skin because we are committed to the safety of our clients. These water based formulas are specifically designed to be hypo-allergenic, gentle and easy to remove with mild soap and water. The cosmetic grade brands we use are Snazaroo, Paradise, Wolfe Brothers, Mehron and Kryolan. We use only skin / makeup grade poly glitters.
Unfortunately some painters aren't aware of the facts and are using acrylic paint. Many people are allergic to these polymers. This is not made for use on skin. It is made to remain color fast if sitting on a canvas exposed to sunlight for 30 years. If you spot a painter at a festival, or if you're planning on hiring a painter, please inquire as to what kind of paint they are using before considering their services.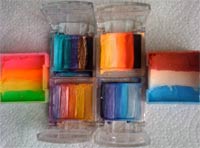 We care about the health of your skin
Have you ever wondered why cosmetics such as foundation never mold even after sitting in a drawer for 3 years? Cosmetics contain antimicrobial preservatives such as methyl paraben, propyl paraben, butyl paraben, disodium EDTA among others. These keep bacteria from growing in water based paints while being gentle and safe. Additionally our brushes and sponges are cleaned regularly with antibacterial soap. Your child has a greater chance of catching a virus while waiting in line than from face painting. Additionally at the artist's discretion, we won't paint skin with any kind of condition such as conjunctivitis, cuts, sunburn, or other rash.
As far as allergies, if you have sensitive skin please request a patch test prior to being painted. I have been painting since '94 and nobody has ever complained of a reaction. These products are the Clinique of face paint.
Removing Face Paint
Face paint is formulated for easy removal with mild soap and water. Light colors come off with just a baby wipe. Some darker colors will linger. If this happens use a washcloth with soap or cold cream. Should the paint get on clothes, use OxyClean or stain pre-treater along with regular laundry soap.