We Care About Your Skin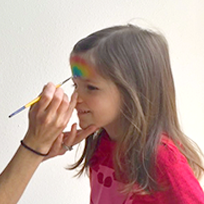 Face paint isn't paint. It's technically a cosmetic makeup specifically for skin. We use only FDA approved face / body paint for the skin because we are committed to the safety of our clients. These water based formulas are specifically designed to be hypo-allergenic, gentle and easy to remove with mild soap and water. The brands we use are TAG, FAB, Paradise, Wolfe Brothers, Silly Farm, and Kryolan. We use only makeup grade poly glitters.
Many amateurs use acrylic craft paint which is dangerous, harmful, peels, stains, and looks terrible once it dries. Any time you are getting your / your child's face painted, please make sure the artist is using cosmetic face paint and not acrylic or tempera paint.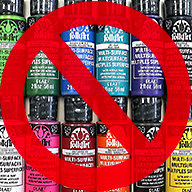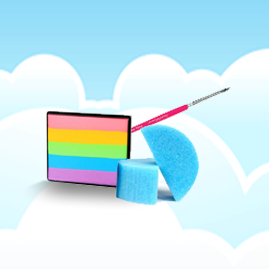 If you have sensitive skin, please request a patch test before painting. We use the BEST face paints that money can buy from reputable United States suppliers such as Silly Farm and JestPaint. I have been painting since '09 and nobody has ever complained of a reaction. These products are the top of the line industry standard.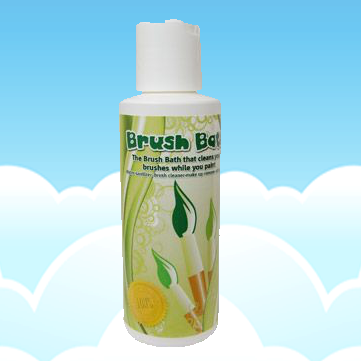 We use cosmetic grade disinfecting agents in our paintbrush water. You can choose for us to paint an arm rather than a face if preferred. Even with added precautions, there is no way to avoid all risk of viral transmission such as COVID 19 in face and body art - do so at your own risk.
Have you ever wondered why liquid cosmetics such as foundation never mold... even after sitting in a drawer for years? Cosmetics contain antimicrobial preservatives. These keep bacteria from growing in water based paints (and cosmetics in general) while being gentle and safe. This is anecdotal evidence, but once I forgot two sponges in my car. When I found them the next day, the sponge wet with water smelled of mildew. The one wet with face paint and water had no odor.
Our brushes and sponges are cleaned regularly with antibacterial soap. Your child has a greater chance of catching a virus while waiting in line than from having their face painted. Additionally at the artist's discretion, we won't paint skin with any kind of condition such as conjunctivitis, cuts, sunburn, or other rash.