Easy As 1-2-3 Booking Process

Contact us by phone or email. Give us your date, time, type of event and location. Let us know what kind of set up you're looking for as far as tables, chairs, or if it's outdoor, parking, etc. You can also visit our FAQ and our policies pages for more.

Now that we have the details, we can give you an accurate price quote. You'll need it when you fill out the contract. If you have any questions, don't hesitate to call or email any time. Also check out our hourly pricing, specials and package deals.

Click through the simple and quick online contract that gives us all the details. When you click submit, we both get a copy via email. We're happy to send you an invoice that you can pay by credit card if you prefer. Congratulations - you're booked!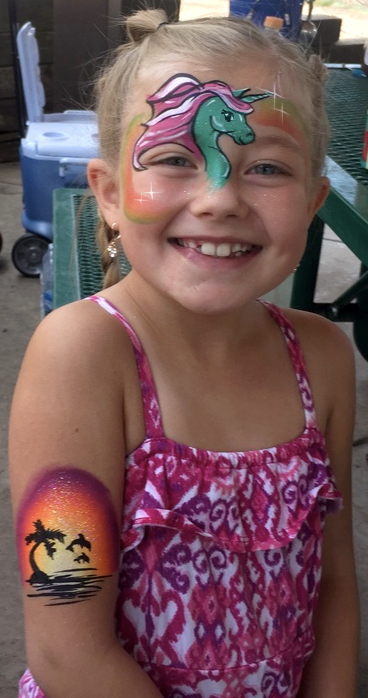 Multiple Paintings
We are so fast and so good that there's enough time for that rainbow unicorn AND mommy and baby dolphin sunset! The policy is that every guest gets one painting and if there's enough time, they can get in line for a second one. Check out her precious smile!!!
Things To Consider
We will need your expected number of guests. It might surprise you how many adults want to get their faces painted these days. ;-)
Think about providing shade AND an alternate indoor location if you're doing something outdoors. Shade / shelter from rain, high wind and snow is required for outdoor events.
You will need to pay by cash or check upon our arrival. If you want to pay by credit card, please do so 3 days in advance of your event.
Where will you want us to set up? In addition to our small area for our paint kit and chair(s), kids tend to gather around and watch us paint the other kids as they decide what design they are going to choose.
We bring a menu of the most popular face painting designs. If you have something special in mind, just let us know.
You do not pay for setup time - we get there early enough to be set up and ready to face paint at the contracted start time.
At no additional trip charge, we travel to Colorado Springs, Monument, Palmer Lake, Fountain, Fort Carson and Peyton. Distant venues sometimes require a 2 hour minimum.
You're Booked - Now What?
Upon completion of the face painting contract, you will receive a copy via email. Please call if you don't receive this. Look over the contract and make double sure it is 100% correct. One time a client put the wrong date, but luckily we were available on their actual date. We've driven to incorrectly typed addresses as well. OOPS.
Let us know any setup requirements you might have. Do you want us on your kitchen table? We can bring our own table. We can bring as much or as little as you need. If anything changes please call us right away. We will do our best to accommodate you.
We will arrive a bit early to get set up. You do not pay us for this time. We will need some water to rinse and wet our water activated face paint and clean our brushes.
If you see us on our phones, we are not on our phones! One of your guests has asked us for something off the menu and we are looking up a photo reference so we get it just right!
We will be keeping an eye on the time and we will make sure everyone in line gets their face painted. We will come get you if it looks like you underestimated the guest count.
Please pay us before things get hectic at your party. This way we can just pack up and let ourselves out when the time is up. We hate to bother you in the middle of singing happy birthday or opening presents. If you would like to pay by credit card, please request an invoice. These must be paid in full 3 days in advance.