Packages & Specials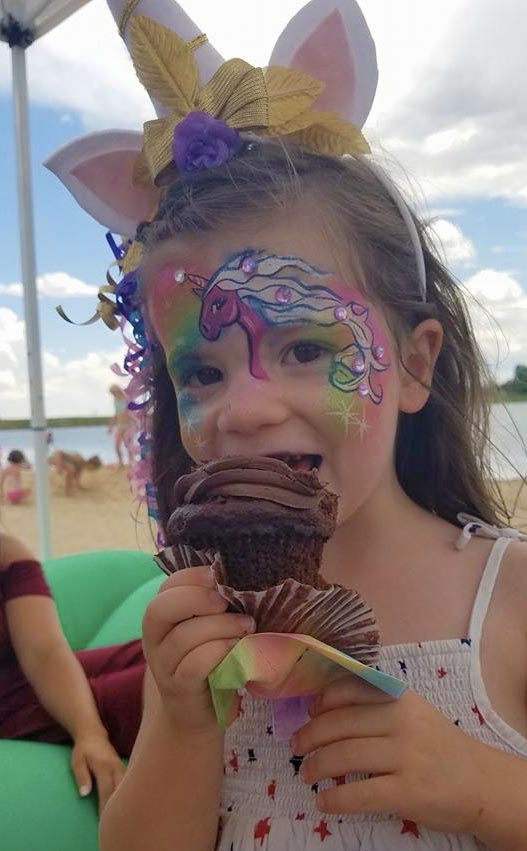 Glitteriffic Unicorn Rainbow Party
Over the top custom face paintings include sick-on gems, stencils, glitter & glitter gel outlining, and lipstick! No need to clean your house, these parties may be held at Art At Altitude. Download the postcard.
Optional Add-Ons:
Rainbow Unicorn Painting On Canvas - Instructor led, step-by-step painting of a rainbow unicorn on a 9x12 keepsake canvas.
Additional $5 per child
-or-
Embellish Unicorn Headbands - Bedazzle pre-made unicorn headbands with flowers and gems. Instructor led, step-by-step fun! Cost of headband not included.
Additional $5 per child
15 Child Minimum
Not into unicorns?
Call to create something custom!
*The hourly rate is based on the location, the artistic requirements, and duration.
*Distant venues may involve a travel charge - that's why you need to call to get a quote.
Discounts and special prices are not retroactive. Pricing on this site never applies to previously booked events. Pricing subject to change without notice and is dependent on artist availability at the time of the contract signing. Changing the date or time of the event voids the discount as a different artist may be required.
Design intricacy affects the time required to paint each face / apply each henna tattoo.
There is a 1 hour minimum when we drive to your event. Sometimes private appointments for henna and Halloween don't have a 1 hour minimum.
The majority of our most popular designs can be painted in 3-5 minutes.
Artist will paint the last face 5 minutes before then end time of your event.
Overtime is charged in $40 half-hour increments PER ARTIST, and there is no guarantee that they can stay longer.
Securing 3 or more event dates entitles you to a reduced hourly rate.
Some outdoor situations require us to bring our shelter, tables, chairs, etc. which may incur an extra charge.
Want an estimate? Call 719.499.5652 for a quote or email us with all the details.