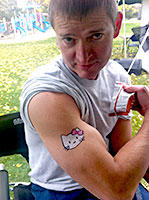 More Information - Polices, Procedures and Legal-eze
Rescheduling
Should you need to reschedule your event, please do so at least 7 days prior and we will be happy to meet your needs. We do not offer refunds for inclement weather so please secure an alternate indoor location for your event in advance. If you need to cancel the event, you must do so within 24 hours or pay the full contracted amount. Should our Artist get sick we will find a replacement Artist. If you have questions at any time, please email or call us at 719.499.5652.
Line Management Policies

It's our policy to avoid anyone standing in line only to be turned away without getting their face painted. When you hire us for a set number of hours, we created some good procedures to let your guests know what's going on and keep the line moving efficiently without you having to worry about it. For small events like birthday parties, line management isn't usually necessary. Please let us know if we need to make an exception to any of these rules at your event.
Multiple Paintings - If a guest requests multiple paintings such as an arm band and a face painting, we will ask them to get 1 painting then get back in line for the second one. The goal is to make sure that each guest gets at least 1 painting.
Posted end time - We put up a sign that clearly states when we will take the last guest. "Artist will paint the last face at 2:30" - usually 5 minutes before the end time of your booking. If 6 guests think they can get in line at 2:29 this will put your event into overtime. We want to avoid that confusion so if you could help us inform your guests, that would be great.
Sticker system - When it is getting close to the end of our event, we will count the number of guests in line and estimate each one at 5 minutes. We will hand out a sticker to each person in line. Only those with stickers will be painted and we ask those at the end of the line to please not allow anyone else to get in line. If we anticipate this kind of volume, we will likely bring a Line Manager to help end the line since we know you want us to be focused on painting faces.
Overtime procedures - Through no fault of your own, more guests may show up for your event than you anticipated which could cause us to go into overtime. We keep an eye on the number of guests and let you know if it seems time might be tight. How it is handled is your call. We can simplify the paintings, limit design choices, charge for the extra time to paint the remaining guests or you can notify remaining guests that they will not be painted.
Repairs - If a guest messes up their painting we will be glad to touch it up as long as there is time for all your guests to get at least 1 painting.
Double Booking Policy
To be fair, if two clients need the same date / time, we will ask the first client to pay a 50% deposit to hold the spot. Until we receive it, we will notify BOTH clients that the date already has multiple inquiries so everyone knows what's going on.
Crazy Complex Designs
You have the option to limit design choices to 5 minutes on the contract. If you don't, we will paint whatever intricate design your guests request unless we are almost out of time and the design will put us into overtime. We can handle this however you prefer but by default we inform the guest we need to simplify the design due to the end time of our booking.
Travel / setup / other fees

There is a $30 returned check fee. Travel fees apply when the event is more than 35 minutes from Colorado Springs. Call us with your location. Depending on your event, there may be a charge for outdoor, lengthy or difficult setup - usually $30 but please call or email for a quote. Parking fees must be paid to artist along with other fees on the event day. For your convenience, we accept major credit cards.
At no additional trip charge, we travel to Colorado Springs, Monument, Palmer Lake, Castle Rock, Falcon, Fountain, Fort Carson, Peyton, Woodland Park, Northern Pueblo.
Parking
Please either leave a space open in front of the house on the street, the driveway, or a loading dock so Artist can unload equipment. The Client will reimburse Artists for any parking fees. Please specify unusual requirements on the contract.
Indoor Setup Requests
If you could provide us with bathroom facilities, a minimum of 6' x 6' space and 15 minutes of setup and take down time, that would be fantastic. We can bring as much or as little of our gear as you like. Some people don't have room for our table and chairs and would like us to use theirs, while some would prefer us to bring everything. Either way just let us know on the contract your preference. Please ensure that location has adequate lighting but we can bring lights if necessary - please let us know if there is a problem with any of this.
2 Options for Outdoor Setup
1. You provide us with sun / wind / rain shelter and adequate space and lighting to paint. We will bring the rest.
- or -
2. We can bring our easy-up shelter, table, and chairs for an additional charge of $30 for up to 2 Artist stations. We will need to set up 25 minutes prior to start / after completion of event in this case. We require a minimum of 10'L x 10'W x 11'H of level space, adequate lighting, access to a rest room and a place to dispose of our painting water. If possible, please don't water your lawn on the day of your party, or soak it heavily the previous day if possible. Our shoes and equipment thank you!
Limitations On Artwork
We will paint anything with a couple of exceptions. If in public, artists will not paint on any part of the body that is not legal to expose or anyplace she does not feel comfortable painting. Body painting obviously requires nudity which is fine in private locations. In addition, Artists will not paint subject matter she deems offensive or disturbing or that may be offensive or disturbing to other guests.
Locations We Service
We travel to Colorado Springs, Monument, Palmer Lake, Castle Rock, Falcon, Fountain, Fort Carson, Peyton, Woodland Park, Northern Pueblo. Please call if you need us elsewhere. Any location more than 35 minutes away from Colorado Springs will incur a trip charge. It's usually $30 per half hour of extra driving time charged in half hour increments. This will be determined in advance so please call before completing the contract.
Extreme Adverse Working Conditions
It's disappointing that we had to create this policy :o(
Artist has the right to cease painting and leave without refunding any monies if there are extreme adverse working conditions and the Client fails to remedy the situation after it has been brought to the Client's attention. Adverse conditions included but not limited to: destructive, violent, or extreme inappropriate behavior of a child, pet or adult; illegal activities; or otherwise dangerous conditions.
Liability Statement
While we use ONLY FDA approved cosmetic grade face painting supplies, Artist is not liable for allergic reactions to paints. People with skin allergies or sensitive skin should either not participate, or have Artist perform a patch test at the beginning of the party. Client understands that darker face paints may linger and must be removed with mild soap, water and washcloth. For safety reasons, Artists will not paint the faces of children under 2 years old or anyone who is unwilling. For sanitary reasons, Artists will not paint anyone who is or appears to the Artist to be sick or suffering from cold sores, conjunctivitis, ringworm, sunburn, eczema, any infectious skin condition or open wounds. Artists will use reasonable care, but is not responsible for damage to clothing or property. The Client agrees to pay for any accidents or injuries caused by pets or guests, and / or any damage to Artist's equipment or supplies caused by pets, lawn sprinklers, or guests.
Supervision
For your child's safety, under no circumstances will we supervise children. We are hyperfocused on our painting and are largely unaware of what is going on around us so please make sure a parent or guardian is around to keep an eye on your little ones.