Body Art by Zanypaint

Using the human body as a canvas is one of the oldest art forms in recorded history. Let us bring your body art dreams into reality. For adults, how about painted lingerie for Valentines day? Give us a call to find out how we can turn your guests into a walking canvas or hire a model to be painted at your event.
Kids love to have their favorite character painted on their arm or hand because they don't need a mirror to enjoy their creation. We're not just for faces.
Faux Tattoos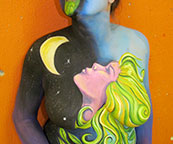 Many tweens, teens and kids at heart want to get inked without the lifetime commitment. Painted tattoos are perfect for the arm, back, ankles, etc. We can combine face painting with faux tattoos at your event to ensure the older kids can join the fun.
Belly Art
Make a baby shower extra special for the mom-to-be with a custom belly painting. We can match any nursery theme or interview the expectant mom to create a custom concept just for her.
Henna Tattoos
The ancient art of henna has been used since the Bronze Age to color the hair and skin. Traditionally used to signify joy and good luck to a bride, today these temporary tattoos are a fun adornment for any occasion. While considered temporary, these tattoos can last between 10 days and 6 weeks.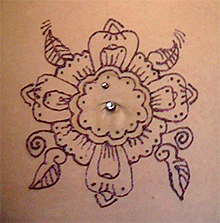 "Faux" Henna Tattoos
For those who love the look of henna but don't want to stain their skin, glitter gel is a great option. It dries in about 30 minutes and washes off with soap and water.