Gina Tinker-Lewis
Professional Face Painting Artist and Zanypaint Founder

Gina is an award-winning honors graduate of the Art Institute of Houston. A fine artist as well as a graphic designer, Gina has been an art lover since childhood and painted her first face in '94. While Gina loves her day job in the creative world of web and graphic design, she longed to have a paint brush in her hand again. That coupled with her love of children was the catalyst for founding Zanypaint. With 2 youngsters of her own (often practice heads) she has all she needs to create little smiles.
"The best part of being a face painter are the smiles when kids look in the mirror. It's a joy to see how they feel transformed. I feel lucky to get a glimpse into their little imaginations with these adorable paintings they dream up. I love what I do, and I'm honored to be a part of your special event!"

- Gina
We also have a number of talented artists in the front range area that we call upon to assist with larger events. Additionally if you have a need that requires a specialized talent, we make sure we hire the most appropriate and trusted artist for that occasion.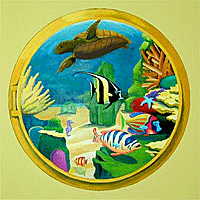 Got Art?
Gina is a real live artist and is also available to paint custom wall murals (or on canvas) to match a theme or color scheme. Perfect for nursery decor. Please call 719.499.5652 for more info.
My day job
This web site and all it's graphics were created by Gina (owner of Moving Pixels Creative). If you need a web site, logo / branding, or other graphics, contact Gina.